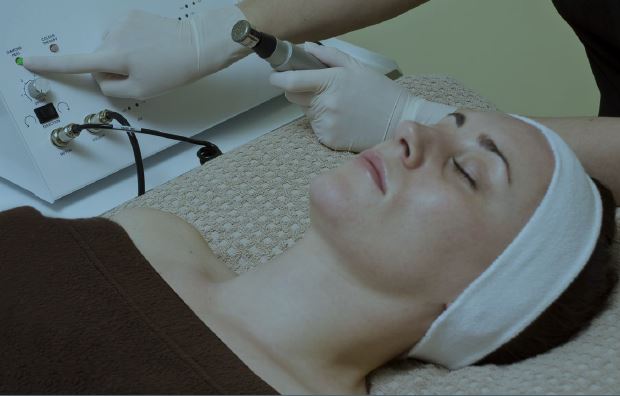 DermaVisage Diamond Microdermabrasion
Diamond Microdermabrasion uses the hardest natural substance, diamonds, to effectively abrade the skin, smoothing and regenerating it. As there are no crystals, and therefore no vacuum is required to remove them, the treatment is fast and virtually silent. The treatment can be tailored for any skin type, from sensitive to oily.
DermaVisage Crystal Microdermabrasion
The Crystal Microdermabrasion uses a controlled flow of ultra clean Aluminium Oxide crystals, which are set in motion using a vacuum. The Aluminium Oxide crystals are incredibly hard, the only substance harder, as previously mentioned, is diamonds, which means that it is possible to produce an extremely fine crystal. This crystal is highly effective at abrading the outer layer of dead skin cells. DermaVisage works using a 'closed system'. This means that the crystals only flow when the hand piece is placed on the skin. This ensures absolute safety when using the machine, especially when treating areas close to the eyes. In combination with the DermaVisage product range, the machine may be used to regenerate the skin for fabulous anti-ageing results. Crystal Microdermabrasion may also be used to treat stretch marks and acne scarring.
Results include:
Refines skin and deep cleanses
Improves cellular function and regeneration
Increases blood and lymph circulation
Enhances the effectiveness of active ingredients
Rejuvenates aged and damaged skin
Aids the reduction of pigmentation
Reduces the appearance of scarring
The treatments lasts around 45 minutes to 1 hour, although the length of the treatment and the number required varies according to the client's requirements. A course of 10-12 treatments is recommended to improve skin regeneration.
Cost:
Combined Diamond and Crystal $120 (1 hr)
Diamond or Crystal on their own $90 (45 mins)
Package of 6 Combined Diamond and Crystal $600 (i.e. 1 free)
Package of 6 Diamond or Crystal $540 (i.e. 1 free)
Package of 12 Combined Diamond and Crystal $1200 (i.e. 2 free)
Package of 12 Diamond or Crystal $1000 (i.e. 2 free)